Options buying episode – March 2019 to Jan 16th 2020
1. Went from 3L to 15.5L in 10.5 months,
Winrate = 43%,
Reward:Risk(RR) = 2.25 ,
Option points made = 836
2. Options decay is almost nil or non-existent in monthly NF options buying
3. When i had some decent drawdown in May/June 2019 (sea of red, as i call it), everyone jumped on-board to ridicule that
a) "See, i told you" – Daytrading does not work(most probably the person would have failed in daytrading and hence, the comment)
b) Options buying is a sucker's game and selling is the way to go (most probably a new-age expiry options seller)
c) You were lucky in the 1st 2 months and your system lost edge now – nobody makes money in the markets (investor or somebody who lost money in the markets due to poor risk management)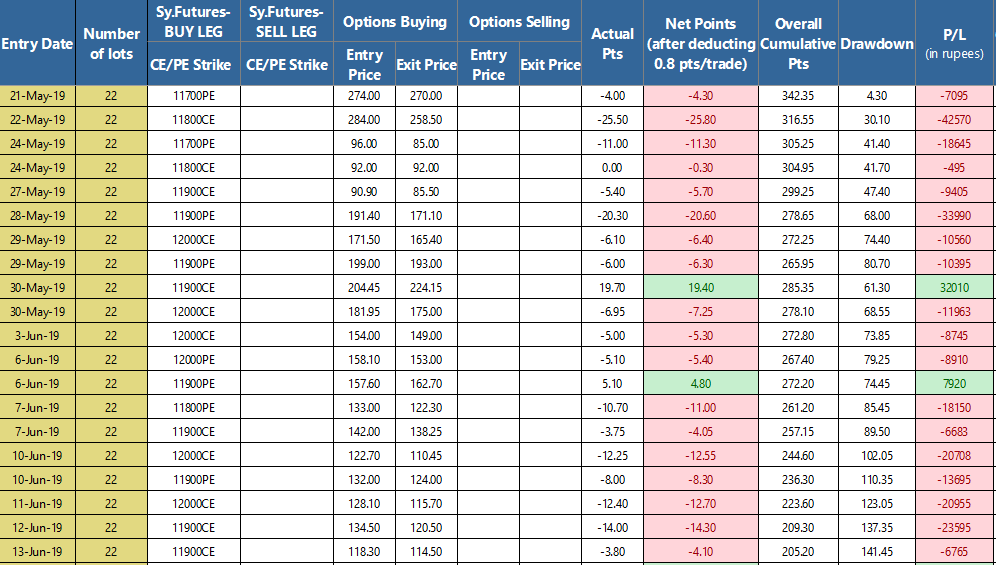 4. System bounced back well in Aug/Sep/Oct 2019 and lot size went from 10 to 47 in this 'buying' episode. All the naysayers went quiet ?
5. Option buying is more advantageous if the trader's average time in the trade is less than 2-3 hours.
6. If we minimise the number of trades to 1 per day (average), then intraday feels pretty much like positional trading. (Please note that 1 trade/day does not mean we stop after 1 trade is done. It is an average number ?
7. My options buying episode will not be complete without mentioning Arun of howutrade.in from Tanjavur, TN.
Arun brought me an excel sheet (connected to Zerodha API) in one of our chennai meetups and told me that they created this sheet solely based on their observation of my intraday trades. It was such a timely gesture(remember, I did not ask but they voluntarily created this sheet) that it made my intraday trading life so much simpler. It has everything what I could ask for. I started placing conditional order(options entry based on futures price) using his sheet.
8. Understood the importance of systematic trading more as the account grew intraday(it was more like a reinforcement). I am not sure if i would have done the same thing following discretionary way of trading.
9. During the June/July months, I spoke to a trader (aged around 63) who daytrades emini exclusively for the last three decades. She lives in Charlotte, NC. Based on numerous conversations with her in skype, I changed my trailing stoploss(TSL) mechanism a bit. Started trailing aggressively but that also made me miss a few of the big moves(not all the big moves). I backtested the system again with this changed TSL exit and I was OK with it.
So, it pays to test different trailing stops (both conservative and aggressive) and find out whether you'd have made more money using those instead of price targets or your magical "price action" interpretations.
10. Somewhere in this period, I saw the potential of trading intraday and options(as multiple strike prices can be traded and inturn, bigger account size can be traded) combo. I decided to pursue intraday trading (in addition to my positional trading) and thought of experimenting various ways of entering the markets.
..and that leads us to the options selling episode.